24 Oct 2010
As I began to add support for Digital Setting Circles (DSC) into my SkEye app, I thought the first step is to get the communication right. That is, the communication between the DSC and the phone, over bluetooth.
I built a separate app for doing this and figured, hey, this could be useful to others as well. Perhaps, to test your setup or simply to learn how your DSC communicates.
28 Dec 2010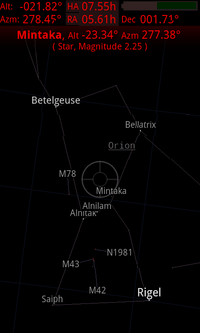 SkEye is a Planetarium for Android. It is similar to Google Sky Map, but designed to work with telescopes. It lets you use your phone as a PUSHTO guide without needing any other equipment.
There is now a dedicated website for SkEye.